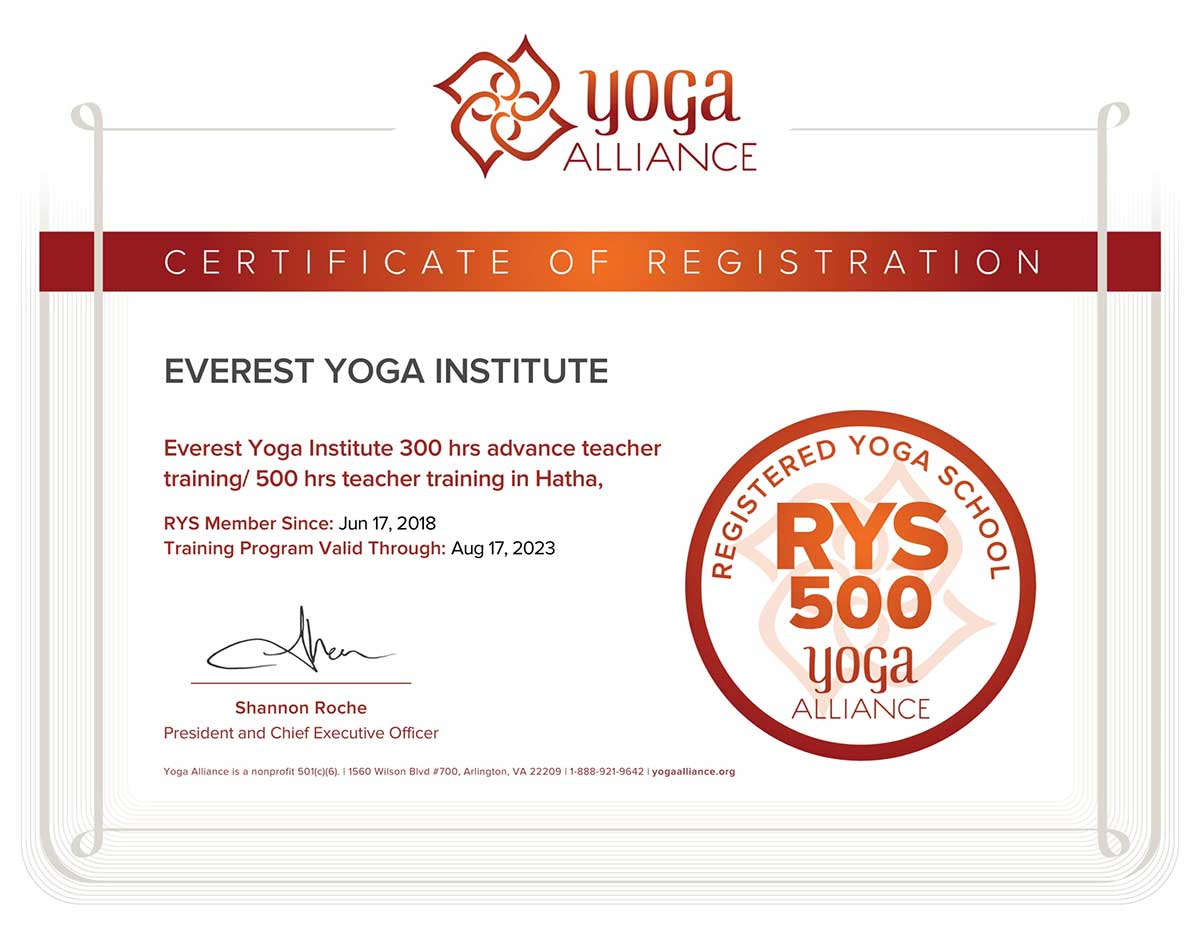 ONLINE & ONSITE
300 HOURS YOGA TEACHER TRAINING
| Course Name | Course Month | Book Your Seats |
| --- | --- | --- |
| 300 HOURS YOGA TEACHER TRAINING (ONLINE & ONSITE). | | |
Everest Yoga Institute categorizes its learners as Starters, Movers and Flyers. Those who have already completed 200 Hours YTT as Starters are eligible for 300 hours YTT.
During the course, the learner learns the advanced concepts of yoga. It is for those who want to upgrade their knowledge and qualifications for their personal and professional growth.
We teach correct alignment and explain common misalignment and contraindications for multiple poses. We also explain various physical and mental benefits for various types of poses and prepare the learner to offer variations of each asana for a person with injuries, elderly students and people with specific needs.
300 Hour

Detailed Syllabus
YOGA MODULE 1: ASANAS
EYI RAJ YOGA SERIES (3,4 & 5)
EYI ADVANCED PROP YOGA SERIES ( BELT, BLOCK, CHAIR)
EYI HATHA YOGA SERIES (3,4 & 5)
EYI WHEEL YOGA SERIES
EYI BALL YOGA SERIES
EYI STICK YOGA SERIES
EYI YIN YOGA SERIES
EYI CIRCUIT YOGA SERIES
EYI FOUNDATIONAL FLOW YOGA SERIES
EYI ADVANCED FLOW YOGA SERIES
EYI PARTNER YOGA SERIES
EYI ARTISTIC YOGA
EYI RHYTHMIC YOGA
EYI ATHLETIC YOGA
Yoga Module 2: PRANAYAMA
Yoga Module 3: MUDRA, DRISHTI & BANDHA
Yoga Module 4: SHATKARMA
DAND DHAUTI
VASTRA DHAUTI ( *not applicable for online course )
Yoga Module 5: YOGIC HUMANITIES
VEDAS, UPANISHADS, BHAGWAD GITA: AN INTRODUCTION
PANCH MAHABHOOTA
TRIGUNA
AURA
VRAT: PHILOSOPHICAL & SPIRITUAL
PRATYAHARA
FOUR NOBLE PATHS OF BUDDHA
EIGHT FOLD PATH
FACTORS AFFECTING SPIRITUAL YOGIC PRACTICE
YOGA SUTRAS: SAMADHI PADA
YOGA SUTRAS: SADHANA PADA
YOGA SUTRAS: VIBHUTI PADA
YOGA SUTRAS: KAIIVALYA PADA
Yoga Module 6: MEDITATION
PREKSHA MEDITATION
TM
SINGING BOWL MEDITATION
Yoga Module 7: ANATOMY & PHYSIOLOGY
EXCRETORY SYSTEM
IMMUNE SYSTEM
ANATOMY OF PRANAYAMA
ANATOMY OF MANTRA CHANTING
PHYSIOLOGICAL ASPECTS OF ASANAS
SIX CATEGORIES OF ASANAS
THERAPEUTIC EFFECTS OF YOGIC TECHNIQUES
YOGA FOR MENTAL HEALTH & PHYSIOLOGICAL TRANSFORMATION
PSYCHOSOMATIC DISORDERS
Yoga Module 8: PROFESSIONAL SKILLS
STUDENT TEACHER RELATIONSHIP
LESSON PLANNING
ART OF INSTRUCTIONS DURING TEACHING PRACTICES
CLASS AND STUDENT MANAGEMENT
BUSINESS ASPECT OF YOGA
LIFETIME OF LEARNING AND CONTINUING EDUCATION
Yoga Module 9: PRACTICUM
KNOWLEDGE, UNDERSTANDING, APPLICATION, SKILLS & EXPERIENCES ACROSS THE WHOLE SYLLABUS
* Syllabus might change due to the season, course and any update in the syllabus. Please keep yourself free for any additional classes during the course.