Sanjeev Tyagi
Professional Internationally Certified Grand Master, Yoga Teacher & Yoga Referee
Founder and Managing Director- • Everest Yoga Institute, Ludhiana • Everest Sports Academy, Ludhiana, Punjab
Yoga and Sports Director @ Manav Rachna International School, Ludhiana, Punjab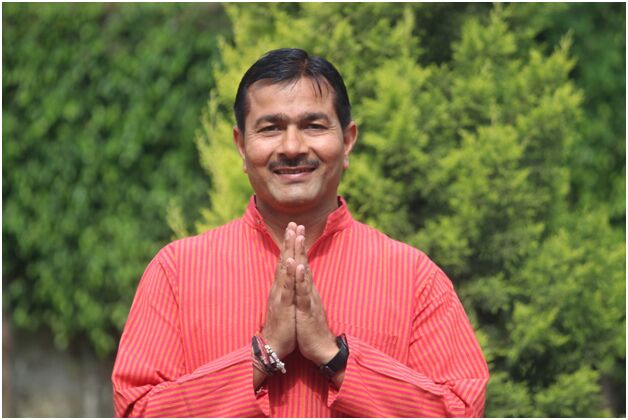 PROFESSIONAL CERTIFICATIONS
Experienced Registered Yoga Teacher 200 hours
Experienced Registered Yoga Teacher 500 hours
(YACEP) Yoga Alliance Continuing Education Program
Certified by International Yoga Alliance USA 500 hours
ACADEMIC PROFILE
B.Sc – Sports Science, CCS University, Meerut, India
B.P.Ed, Barkatullah University, Bhopal, India
M.A Yoga, Gurukul Kangri University, Uttrakhand, India
M.P.Ed, CCS University, Meerut, India
WORK EXPERIENCE
YOGA TEACHER TRAINING COURSESConducting YTTC at Everest Yoga Institute, for all age groups in various forms of yoga and therapy since 2015.
YOGA CHAMPIONSHIPS
Team Selector & Judge in State Yoga Championship, Rishikesh (2006)
Organiser & Judge in Uttrakhand Open Yoga Championship (2003)
Organiser of Open Yoga Champion @ Gurukul Mahavidyalaya, Haridwar (2002)
Represented India as Coach during International Yoga Championship @ Thailand (2019)
Represented Yoga Federation of India as Indian Coach @ Karnal, India (2018, 2019)
Successfully trained two world yoga champions during Under 8 World Yoga Championship @ Thailand (2019).
Represented as Punjab State Coach during State Level Yoga Championship @ Amritsar.
Conducting YOGA CHAMPIONSHIPS (School, District, State and National level) since 2016, in association with Yoga Society of Punjab & PEFI.
WORKSHOPS, WEBINARS & RETREATS
Effectively carrying out yoga workshops and webinars for schools, colleges, hospitals, universities, corporate houses, banks, old age homes & government sector.
Administering yoga retreats for all age groups since 2014.
Worked as Coordinator (Punjab) at IAYP, an Edinberg programme.
MOTIVATIONAL SPEAKER & MENTOR
Appears on Radio FM Gold 100 and various other platforms as a mentor & motivational speaker on yoga and health.
SCHOOL TEACHING
Trained students in Yoga and Sports in various schools all across India from 1998 to 2020.
EXPERTISE
Raja yoga
Hatha yoga
Power yoga
Wall yoga
Circut Yoga
Artistic yoga
Kids yoga
Animal yoga
Belt yoga
Restorative yoga
Panayama
Shatkarma
Stress management and reduction
Guidance & Counseling
FOUNDER OF
Circuit Yoga
Animal Yoga
Kids Yoga
Belt Yoga
Wall Yoga
ACHIEVEMENTS IN THE FIELD OF YOGA
Effectively launched the program – "MISSION VIJAY CORONA" during pandemic COVID 19 and running it in high spirits by taking online live yoga sessions and conducting wellness programs for general public , all across the globe.
Appreciation Award by Pre School Association, Ludhiana.
BEST TEACHER OF YOGA 2019-20 AWARD by Sports Promotion Organisation of India.
YIFB RATTAN AWARD as BEST YOGA PROMOTER, 2018-19 from Yog India Foundation Trust and Vidhyuta Trust of Humanity in Chandigarh.
Felicitation from DAV MANAGEMENT OF PUNJAB for promotion of yoga in Punjab in 2019.
INTERNATIONAL YOGA COACH AWARD by Yoga Sports Federation of India & SGS International Yoga Foundation College and Research Centre (Bangalore) in June 2019.
BEST YOGA TEACHER' 2019 by Punjab Yoga Association.
Honoured as a Yoga Promoter by Dr. Ashok Foundation of India in 2019.
Honoured and felicitated for promotion of yoga by – Manav Rachna International School, Sat Paul Mittal School, Bal Bharti Public School, Ram Lal Bhasin School, ABS Magical World School, Ludhiana; Guru Nanak International School, Doraha; DPS World, Jalalabad; DPS, Dhuri; Gurukul, Muzaffarnagar.
Honoured as Best Yoga Promoter in Punjab' 2018 by World Real Yoga Alliance.
Honoured as a Motivational Speaker' 2018 by Gurukul Kangri University.
Felicitation as Yoga Teacher and Wellness Trainer' 2017 by Lovely Professional University, Jalandhar.
Honour and felicitation for promoting Yoga by Punjab Agricultural University during the years 2016, 2017, 2018.