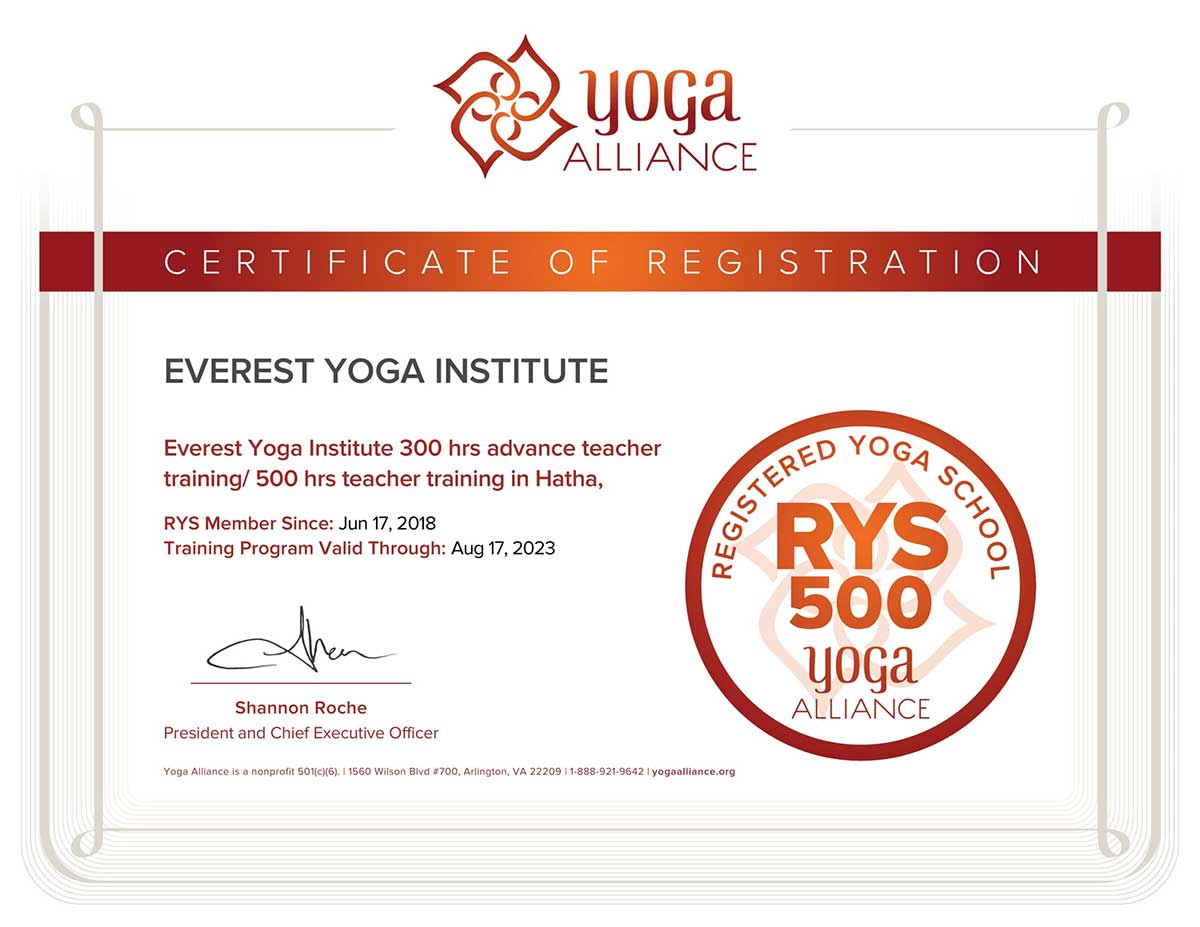 ONLINE & ONSITE
500 HOURS YOGA TEACHER TRAINING
| Course Name | Course Month | Book Your Seats |
| --- | --- | --- |
| 500 HOURS YOGA TEACHER TRAINING (ONLINE & ONSITE) | | |
Yoga is a spiritual and ascetic discipline, part of which, including breath control, simple meditation and the adoption of specific bodily postures, is widely practised for health and relaxation.
Well, it could be practised as a career. To make it a career, Everest Yoga Institute has a well-defined curriculum which meets the Yoga Alliance Standards. Our teachers are qualified to train the trainees. We believe in imparting education which is in-depth and provides valuable information to the trainees.
We teach our students a beginner-level asana class which is safe and correct. We teach them correct alignment focusing on common misalignments and contraindications for various postures. We also explain the various physical and mental benefits of different types of postures and prepare them to offer modifications of the asanas for students with injuries, specific needs and for various age groups.
500 Hour

Detailed Syllabus
YOGA MODULE 1: ASANAS
PAWANMUKTA ASANAS (SERIES 1,2,3)
SURYA & CHANDRA NAMASKAR
EYI OPENING SERIES (SHOULDER, BACK, HIPS)
EYI RAJ YOGA SERIES (1, 2, 3, 4 & 5)
EYI FOUNDATIONAL PROP YOGA SERIES (BELT, BLOCK, CHAIR)
EYI ADVANCED PROP YOGA SERIES (BELT, BLOCK, CHAIR)
EYI HATHA YOGA SERIES (1, 2, 3, 4 & 5)
HOT YOGA
EYI ROTATION SERIES
EYI LATERAL INVERSION SERIES
EYI INVERSION SERIES
ASHTANGA PRIMARY SERIES
EYI WHEEL YOGA SERIES
EYI BALL YOGA SERIES
EYI STICK YOGA SERIES
EYI YIN YOGA SERIES
EYI CIRCUIT YOGA SERIES
EYI PARTNER YOGA SERIES
EYI FOUNDATIONAL FLOW YOGA SERIES
EYI ADVANCE FLOW YOGA SERIES
EYI ARTISTIC YOGA
EYI RYTHMIC YOGA
EYI ARTISTIC YOGA
Yoga Module 2: PRANAYAMA
THEORY OF PRANAYAMA
BREATHING TECHNIQUES
BEGINNER PRACTICE
INTERMEDIATE PRACTICE
ADVANCED PRACTICE
10 TYPES OF PRANAYAMA
Yoga Module 3: MUDRA, BANDHA, DRISHTI
Yoga Module 4: SHATKARMAS
OBJECTIVES OF DETOXIFICATION
METHODS & PRECAUTIONS
JAL NETI & SUTRA NETI
KUNJAL
KAPAL BHATI
TRATAK
DAND DHAUTI
VASTRA DHAUTI ( *not applicable for online course )
Yoga Module 5: YOGIC HUMANITIES
VEDAS, UPANISHADS, BHAGWAD GITA: AN INTRODUCTION
ORIGIN, MEANING & DEFINITION OF YOGA
TYPES OF YOGA SCHOOL
AN INTRODUCTION OF PATANJALI SUTRAS
TENDENCIES OF CHITTA & TOOLS OF NIRODHA
SOLUTIONS OF STABILITY OF CHITTA
FOUR ASHRAMS OF VEDIC LIFE
TRIDOSHA
PAANCH PRANA
YOGIC ETHICS
PANCH MAHA KOSH
CHAKRAS & KUNDALINI
PANCH MAHABHOOTA
TRIGUNA
AURA
VRAT: PHILOSOPHICAL & SPIRITUAL
PRATYAHARA
FOUR NOBLE PATHS OF BUDDHA
EIGHT FOLD PATH
FACTORS AFFECTING SPIRITUAL YOGIC PRACTICE
YOGA SUTRAS: SAMADHI PADA
YOGA SUTRAS: SADHANA PADA
YOGA SUTRAS: VIBHUTI PADA
YOGA SUTRAS: KAIVALYA PADA
Yoga Module 6: MEDITATION
TYPES OF MEDITATION
OBJECTIVES OF MEDITATION
SCIENTIFIC ASPECT OF MEDITATION
SPIRITUAL ASPECT OF MEDITATION
MEDITATION PRACTICE
SILENT MEDITATION
YOG NIDRA
MANTRA CHANTING
CHAKRA MEDITATION
SOHAM MEDITATION
PREKSHA MEDITATION
TM
SINGING BOWL MEDITATION
Yoga Module 7: ANATOMY & PHYSIOLOGY
WARM UP & COOL DOWN
RICE
CELLS & TISSUES
HUMAN SPINE: Structure, Misalignments & Corrections
SKELETAL SYSTEM : Major Bones & Joints
BIO MECHANICS & KINESIOLOGY
MUSCULAR SYSTEM : Types of Muscles, Major Muscles involved in Asanas, Muscular contractions
RESPIRATORY SYSTEM
NERVOUS SYSTEM
DIGESTIVE SYSTEM
CARDIOVASCULAR SYSTEM
ENDOCRINE SYSTEM
EXCRETORY SYSTEM
IMMUNE SYSTEM
ANATOMY OF PRANAYAMA
ANATOMY OF MANTRA CHANTING
PHYSIOLOGICAL ASPECTS OF ASANAS
SIX CATEGORIES OF ASANAS
THERAPEUTIC EFFECTS OF YOGIC TECHNIQUES
YOGA FOR MENTAL HEALTH & PHYSIOLOGICAL TRANSFORMATION
PSYCHOSOMATIC DISORDERS
Yoga Module 8: PROFESSIONAL SKILLS
STUDENT TEACHER RELATIONSHIP
LESSON PLANNING
ART OF INSTRUCTIONS DURING TEACHING PRACTICES
CLASS AND STUDENT MANAGEMENT
BUSINESS ASPECTS OF YOGA
LIFETIME OF LEARNING AND CONTINUING EDUCATION
Yoga Module 9: PRACTICUM
KNOWLEDGE, UNDERSTANDING, APPLICATION, SKILLS & EXPERIENCES ACROSS THE WHOLE SYLLABUS